Junius Dotson – Sr. Pastor, Saint Mark UMC www.saintmarkumc.com
Guest Preacher at Monday morning Opening Worship Service

Guest Preacher at Tuesday afternoon Worship Service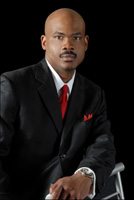 Junius Dotson was ordained to the ministry of the United Methodist Church in June 1992. In 1996, he responded to the challenge of beginning a new and innovative church in the Silicon Valley, Genesis United Methodist Church. Currently thousands of people, from Wichita and beyond, gather each Sunday to hear the thought provoking, faith-filled messages of Pastor Junius Dotson, senior pastor of Saint Mark United Methodist Church.
Pastor Dotson is well prepared both spiritually and academically. He received his Bachelor of Arts degree in political science with a concentration in economics. Pastor Dotson began his postgraduate work in at Perkins School of Theology at Southern Methodist University in Dallas, Texas, and earned his Master of Divinity degree from the Pacific School of Religion in Berkeley, California.
A leader who responds to challenges and opportunities in new and creative ways, Pastor Dotson draws together people who share his vision for the future. He believes that effective ministry is about training, developing, and empowering leaders to establish ministries that address the needs of the "whole" person – body, mind and spirit.
Michael Slaughter – Lead Pastor, Ginghamsburg UMC www.ginghamsburg.org
Co-Teaching Pastor at the Wednesday morning Worship Service
Mike Slaughter, lead pastor at Ginghamsburg Church, is the three-decade dreamer of Ginghamsburg Church and spiritual entrepreneur of ministry marketplace innovations. His life-long passion to reach the lost and set the oppressed free has now made him a tireless and leading advocate for the displaced children, women and men of Darfur, Sudan, named by the U.N. as the worst humanitarian crisis in the world today. Under Mike's leadership, Ginghamsburg Church has become known as an early innovator of small group ministry, the Church "media reformation" and cyber ministry, with the Ginghamsburg website averaging 50,000 visits monthly from around the world. Since initiating The Sudan Project in January 2005, Ginghamsburg has invested over $3.7 million into humanitarian relief in Darfur. The resultant agricultural project, child development program and safe water initiative are expanding to reach a quarter of a million Sudanese refugees and villagers.
As a mentor, Mike travels globally to speak and use his "gift of irritation" to equip ministry leaders to minimize brick and maximize mission so that they may fully deploy the mission of Jesus into the world. Mike is also the author of multiple books for church leaders. For more information about Mike, visit www.mikeslaughter.com
Sue Nilson Kibbey – Executive Pastor, Ginghamsburg UMC www.ginghamsburg.org
Co-Teaching Pastor at the Tuesday morning Worship Service
Sue Nilson Kibbey holds a Master of Divinity degree and is an ordained Elder in the United Methodist Church. As Ginghamsburg Church's Executive Pastor, Sue teams with Senior Pastor Mike Slaughter to create and deploy the vision of the church, coordinates the senior management team, and serves as team leader for all discipleship staff (children, student and adult). Sue also leads human resource initiatives and teams with the senior staff on daily business functions/decisions.
As the creator of "Ministry by Strengths," which equips churches to deploy staff and unpaid servants into ministry, Sue serves as a trainer, consultant and coach to conferences and clergy gatherings across the country. Her book on the art of leading and managing the church, Ultimately Responsible, was released in fall 2006 (Abingdon Press). She has authored Starting a Single Adult Ministry (Cook Communications), named the "Single Adult Ministry Book of the Year" by the National Association of Single Adult Leaders, as well as written for and edited Transformation Journal: Journey Through the Bible in a Year and Transformation Journal: A Daily Walk in the Word (both Abingdon Press). Sue is an adjunct faculty member at United Theological Seminary in ministry leadership.